Ampak Nigeria Limited (ANL) was established and registered in 1992 to provide Environmental and Engineering Services, Civil Works and General Construction. From inception, we have aimed to provide a holistic approach to improving industrial challenges and the need to achieve a safer environment. This we have accomplished through sound practices, innovation, quality research and development.
In the course of our operations, we expanded our tentacles to include consultancy in Occupational Health & Safety as well as Energy Management. We have since worked our way to the top and consistently remained the marquee for Environment, OH&S, Energy and Real Estate Consultancy.
As part of our portfolio expansion, we partnered with the Lapp Group, a German Original Equipment Manufacturer of very high quality cable. Founded in 1957, Lapp is one of the world's leading manufacturers of all types of cables and cable accessories. Ampak Nigeria Limited is the only approved distribution partner of Lapp cables in Nigeria.
Our long-term goal is to be known as the leading consultancy outfit both at home and abroad in our chosen areas of expertise. Therefore, we ensure that our team of multidisciplinary remains professional and abreast of emerging trends, ideas, and innovations in their various fields.
Our operations cut across various sectors and business expressions including but not limited to the Power sector (Generation and Distribution), Construction, Oil & Gas, Telecommunications, Infrastructural Developments, Ministries & Government Agencies and Manufacturing (Fertilizers, Ferrous and Non-Ferrous Metals etc.)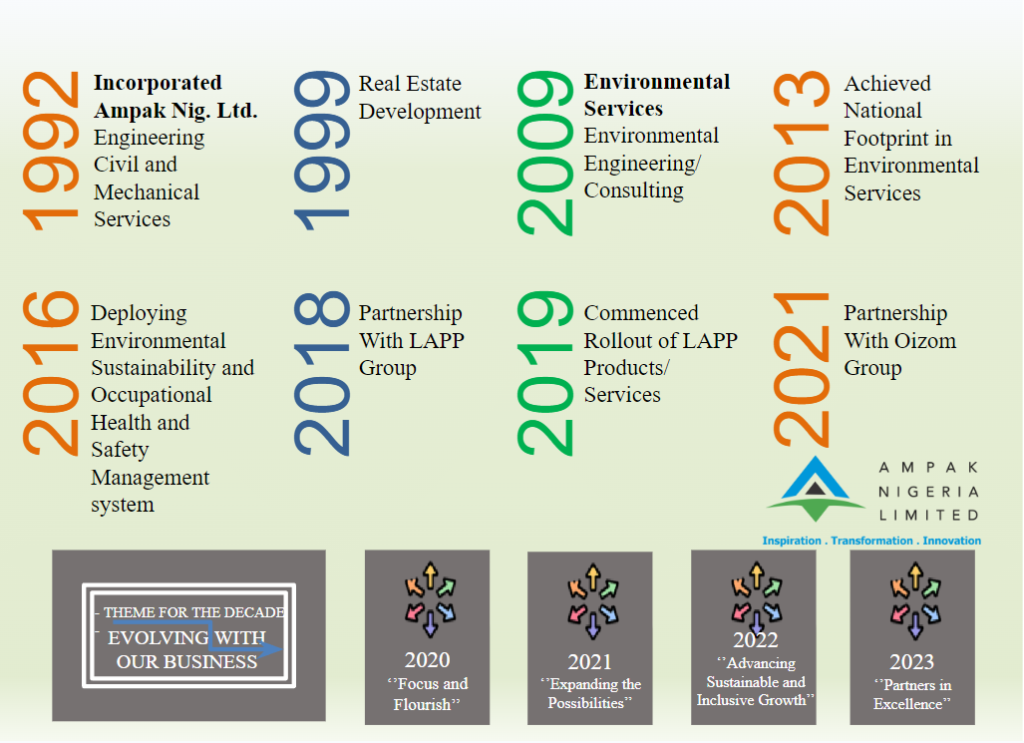 To be the leading outfit for environmental, energy, occupational health & safety and engineering consultancy
To provide holistic and innovative solutions to environmental, occupational health & safety, energy and engineering challenges.
Our values create the synergy required in guaranteeing clients' satisfaction. Our utmost focus is to ensure that clients can always trust us to be professional and ethical.