Ampak Nigeria Limited (ANL) was established and registered in 1992 to provide Environmental and Engineering Services, Civil Works and General Construction. From inception, we have aimed to provide a holistic approach to improving industrial challenges and the need to achieve a safer environment. This we have accomplished through sound practices, innovation, quality research and development.
In the course of our operations, we expanded our tentacles to include consultancy in Occupational Health & Safety as well as Energy Management. We have since worked our way to the top and consistently remained the marquee for Environment, OH&S, Energy and Real Estate Consultancy.
As part of our portfolio expansion, we partnered with the Lapp Group, a German Original Equipment Manufacturer of very high quality cable. Founded in 1957, Lapp is one of the world's leading manufacturers of all types of cables and cable accessories. Ampak Nigeria Limited is the only approved distribution partner of Lapp cables in Nigeria.
Our long-term goal is to be known as the leading consultancy outfit both at home and abroad in our chosen areas of expertise. Therefore, we ensure that our team of multidisciplinary remains professional and abreast of emerging trends, ideas, and innovations in their various fields.
Our operations cut across various sectors and business expressions including but not limited to the Power sector (Generation and Distribution), Construction, Oil & Gas, Telecommunications, Infrastructural Developments, Ministries & Government Agencies and Manufacturing (Fertilizers, Ferrous and Non-Ferrous Metals etc.)
How Ampak Developed Since 1992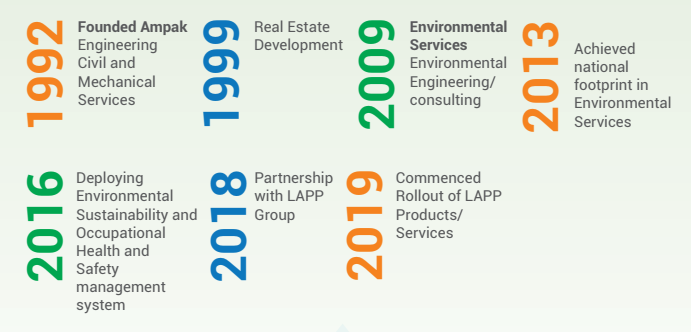 To be the leading outfit for environmental, energy, occupational health & safety and engineering consultancy
To provide holistic and innovative solutions to environmental, occupational health & safety, energy and engineering challenges.
Our values create the synergy required in guaranteeing clients' satisfaction. Our utmost focus is to ensure that clients can always trust us to be professional and ethical.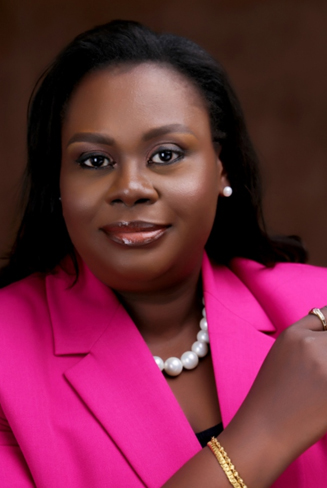 Oluwakemi Ajakaiye (CEnv, M.IoD)
Oluwakemi is the Executive Director of Ampak Nigeria Limited. Oluwakemi works with an exceptional team of staff and consultants to help our clients develop and implement the right strategy to embed corporate sustainability, environmental management, occupational health, safe work practices and wellbeing as well as sustainable use of energy and other resources into small, medium and large companies across Nigeria.
Oluwakemi is the driving force of the Company. She works with patience and determination for developing, implementing, and directing business and strategy to international quality and standards. Her assertive, detail orientation and optimistic approach keeps all arms of the business commensurate with the organization's vision.
Oluwakemi is a Chartered Environmentalist with track record for delivering projects, products and services that has proven to deliver exceptional environmental sustainability outcomes via innovative approaches and engagement, communications, and collaboration.
She has an MSc in Planning Sustainable Environments from the University of Salford, Manchester, Engalnd, and BSc in Microbiology from the University of Lagos Nigeria. She is a Board Member Nigeria Chapter African Circular Economy Network (ACEN-NG), Life Fellow Nigerian Conservation Foundation (NCF), Member Institute of Environmental Management and Assessment (MIEMA) and an active member of ten other professional bodies. Oluwakemi is intentional about mentoring and capacity building for upcoming professionals. She is a Trustee of the Philipanna Foundation and an Associate with Women in Management, Business and Public Service (WIMBIZ)
The core capabilities, in-depth expertise and individual uniqueness of our people is the foundation upon which our ability to serve our clients satisfactorily is hinged. For this reason, we go over and beyond to identify excellent people, hone their skills and provide an enabling environment for them to grow and become leaders in their field.
Our team is made up of multidisciplinary professionals poised to serve our clients' needs optimally. External experts are also engaged periodically to provide the synergy and collaborative efforts necessary to deliver top-notch services at all times.
Our team comprises of people with many years of practical experience in Environmental Management, Occupational Health and Safety, Energy Management, Sustainability, Strategy, Engineering, Engineering Control and Design as well as Real Estate. We are all very driven professionals with diverse areas of specialization.
Together, we deliver services and solutions that are bespoke and highly practical. Collectively, we thrive on new challenges and have continuous improvement at our core.